On July 25th, 1965 the band that went on stage on Sunday included Dylan (vocals, electric guitar), Mike Bloomfield (guitar), Sam Lay (drums), Jerome Arnold (bass guitar), Al Kooper (organ) and Barry Goldberg (piano) - most of these were members of the Paul Butterfield Blues Band, also playing that weekend. They had practiced with Dylan all Saturday night in a nearby mansion, but according to Kooper, "The Butterfield Band didn't have the best chemistry to back Dylan ... It [the practice] was a tough night - complicated and ugly".
Footage of Dylan's Newport performance can be seen in the documentary films Festival (1967), No Direction Home (2005) and The Other Side of the Mirror: Bob Dylan Live at the Newport Folk Festival 1963-1965 (2007). The footage begins with Dylan being introduced by Master of Ceremonies Peter Yarrow: "Ladies and gentlemen, the person that's going to come up now has a limited amount of time ... His name is Bob Dylan." In the documentary footage, the sound of loud booing and sporadic cheering begins just a few bars into Dylan's first song, "Maggie's Farm", and continues throughout the second, "Like A Rolling Stone" and "Phantom Engineer", (which evolved into "It Takes a Lot to Laugh, It Takes a Train to Cry" released on Highway 61 Revisited).
After playing "Phantom Engineer", Dylan told the band, "Let's go, man. That's all", and walked off-stage. The sound of loud booing and clapping can be heard in the background. Peter Yarrow returned to the microphone and begged Dylan to continue performing. Apparently desperate to appease the audience, he assured them that Dylan was "just getting his axe" even before it was clear whether or not he was willing to return solo.
Dylan was, by some accounts, highly distressed. Eventually coaxed back onstage by Yarrow and Joan Baez, he realized he didn't have the right harmonica, and lashed out at Yarrow--"What are you doing to me," he protested. Yarrow's public hectoring of Dylan to return to the stage was clearly a spur of the moment ploy to soothe the crowd. The band couldn't return (Kooper admitted they had only mastered the three songs they played.), so Dylan was essentially being forced to perform an impromptu acoustic set on a night when plugging in was a major artistic statement. And Dylan, his voice betraying real nervousness and distress, had to beg the audience for 'an E harmonica'. Within a few moments a clatter of harmonicas hit the stage. He snapped one up out the darkness (apparently an F, since he put on a capo) and returned to the spotlight with a Chaplinesque flourish that got a laugh, but certainly the atmosphere was still tense. He then sang two songs to the now-silent audience, "It's All Over Now, Baby Blue" and "Mr. Tambourine Man", clearly relishing the kiss-off theme of the former. The crowd exploded with applause at the end, calling for more. Dylan did not return to the Newport festival for 37 years, and in an oblique nod to the events that transpired in 1965.
article courtesy of Wikipedia http://en.wikipedia.org/wiki/Electric_Dylan_controversy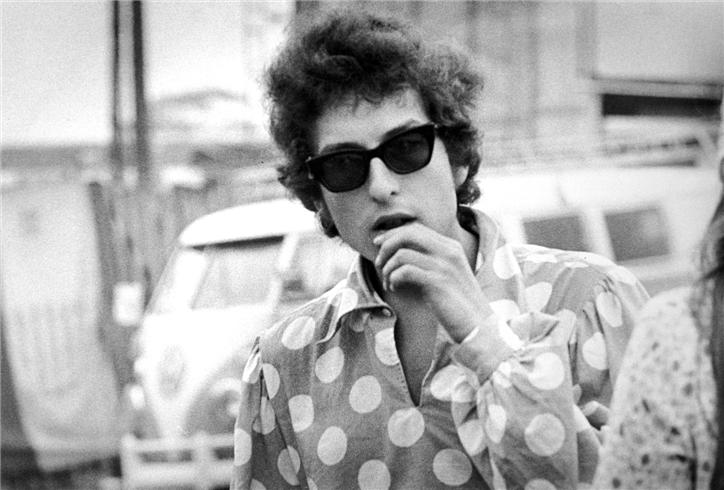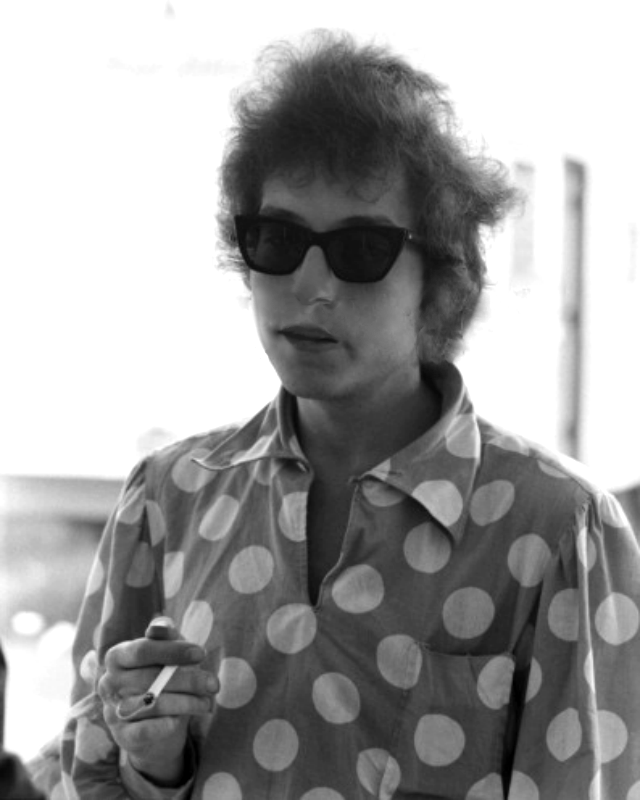 photos courtesy of Dick Waterman.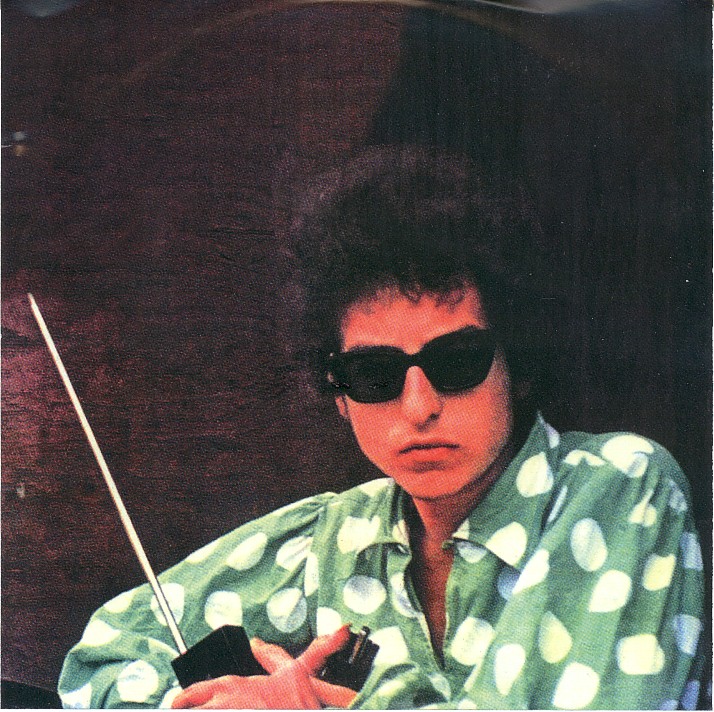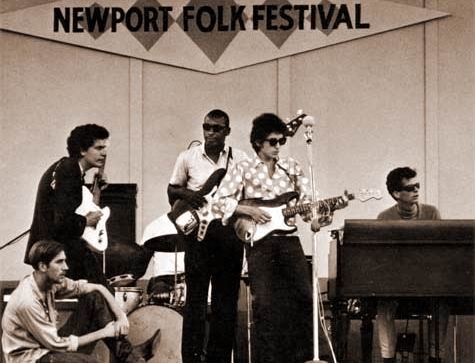 July 25, 1965: Newport Folk Festival,
Sound check before concert.

1. Organ Riffs

2. Maggie's Farm

3. Like A Rolling Stone
(1) Bob Dylan (organ).
(2) and (3) Bob Dylan (vocal & electric guitar),
Michael Bloomfield (electric guitar). Al Cooper ( organ), Barry Goldberg (organ),
Jerome Arnold (bass), Sam Lay (drums)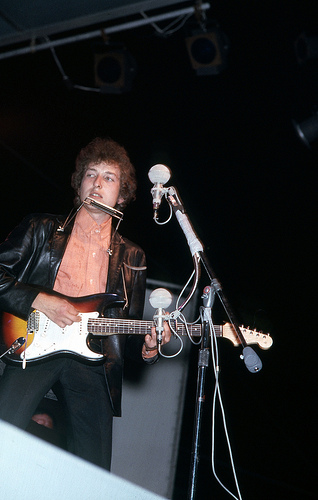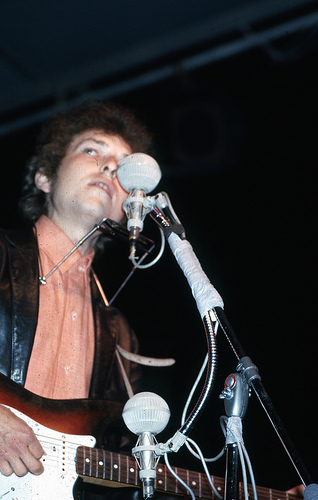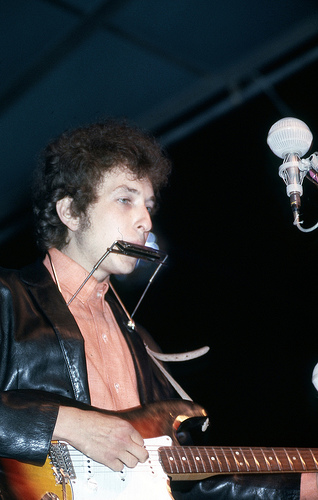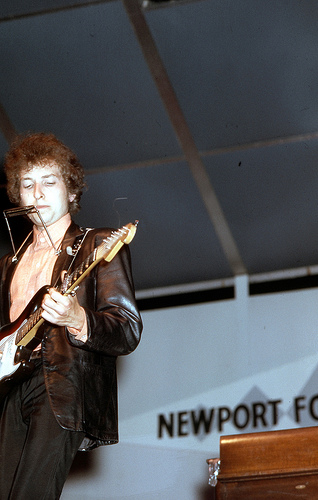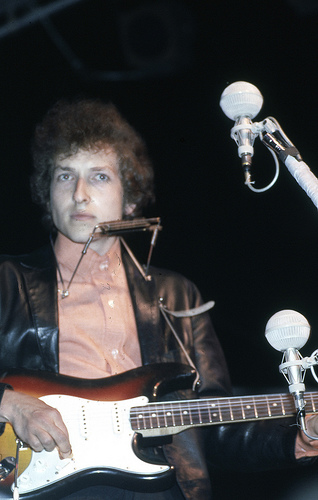 photos courtesy of John Rudoff M.D.
July 25, 1965: Newport Folk Festival,
Evening Performance.

1. Maggie's Farm

2. Like A Rolling Stone

3. I Takes a Lot to Laugh, It Takes a Train to Cry
(aka) Phantom Engineer
(1) and (3) Bob Dylan (vocal & electric guitar),
Michael Bloomfield (electric guitar). Al Cooper ( organ), Barry Goldberg (organ),
Jerome Arnold (bass), Sam Lay (drums)