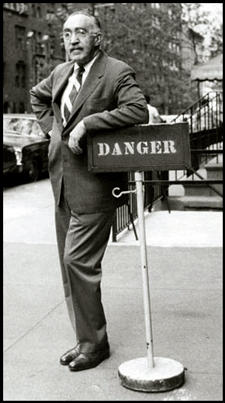 ONE OF THE IDOLS: S.J. Perelman.

---
People frequently ask me how to go about getting a regular newspaper column. The short answer is, of course, to sleep with the editor. Thatís not my story, of course (our longtime editor, Lou Papineau, would never go for it), but itís as good as any answer I can come up with. It is also helpful to have come of age in the anything-goes í60s and í70s.
Of course, in the í60s and í70s, sleeping with your editor was not too far from the realm of imagination. (It probably isnít today, either, but how would I know?) Back in the old days, ink-stained wretches like yours truly had our own little nightlife scenes. Hopeís Bar, originally on Washington Street and named in honor of both The Iceman Cometh and the Biggest Littleís official motto, was a joint that was owned by a couple of Journal reporters. It also seemed to stay open far later than the legal closing time. Reporters, cops, and other in-the-know types could be found there way past official closing time, still swallowing the odd tankard of nut brown ale. I tell this now because the statute of limitations has long since passed.
Leoís over on Chestnut Street was another prime hangout, but it was not about to flaunt the law on closing time. However, it had lovely waitresses, pursued by all the hetero bozo-men (and sometimes we "got lucky"), and bathrooms regularly inhabited by a cadre of late-night crazies eager to inhale vast quantities of "Frankieís product," aka cocaine.
Despite the fact that I never made "the beast with two backs" with any of my many editors over the years, I did manage to get a column. This was primarily because I was already a known commodity around here due to my rock íní roll activities that started around 1970.
Back then, there was a burgeoning counterculture and, as a full-time rock ní roll musician, I was a part of it. I canít recall how or why I got asked to write some stuff for the NewPaper (precursor of todayís Phoenix), but I was and I did. Throughout those early years, the NewPaper (and later, their archrival, the Providence Eagle) was a magnet for a lot of thoughtful arts, entertainment and cultural writing. Folks like Bill Flanagan, Rob Tannenbaum, Caroline Knapp, Evelyn McDonnell, Chip Young, Steve Dubois, Peter Donahue, Bill Van Siclen, Scott Duhamel, Rick Massimo, Bob Giusti and, of course, Lou Papineau (he of the rock-steady guiding hand), all started out in the early Providence alternative press. These are some pretty damned good writers.
But back to the fabulous me. As a kid growing up in Pawtucket, I had two awe-inspiring idols: Bob Dylan and S.J. Perelman. This was Highway 61 Revisited and Chicken Inspector #23 times. (And, if you donít recognize that second reference, I suggest you scurry on down to the library and check it out. Maybe you too will discover the greatest literary humorist/gunslinger to fumble through bogs of metaphor.) In high school, Charlie Sawicki, Chick Arouth, Rod Dawson, Mike Connolly, George Gagnon, and I would cruise around in Georgieís big 1956 Cadillac and read Perelman out loud. Thatís what we did for kicks.
So despite getting all I needed in terms of feedback from rock íní roll audiences in Providence, Boston, New Haven, New York, and places in between, I still wanted to write. And I wanted to write stuff that would make people laugh. I thank Ty Davis and Vin (The Madman) Suprynowicz for giving me that initial opportunity.
And, of course, being a Vo Dilanduh, I was never at a loss for subject matter. What a gift to have had the retrial of Claus von Bulow taking place minutes from my home. Of course, my coverage of the von Bulow trial was a bit different from that of the mainstream press. While they were covering the blow-by-blow, I was covering them, asking them to speculate on the casting for the movie (we didnít even know that thereíd be a movie at the time but, of course, there was). Claus himself told me that he thought that "Curt Jurgens" would be perfect to play him, even though Curt was on his last legs at the time and Jeremy Irons wasnít even on the radar screen.
I also was approached by a guy who worked room service at the Biltmore who told me that heíd delivered breakfast to Claus and his paramour at the time (Andrea Reynolds) and was hot to inform me that Claus was not circumcised. Not that this was big news about a guy born in Europe in the í30s. But it just goes to show you that there has always been a deep interest in the farthest side of sidebars. I even got a note from the trial judge telling me how much she was enjoying my so-called coverage of the trial.
Having written about governors (from Garrahy to Carcieri), presidents (from Carter to Bush the Younger), and mayors (from Buddy to Boy Joe to Buddy to Little Chi Chi), I must say that Iíve been blessed with an embarrassment of riches.
While I never got to emulate the King, Mr. Perelman, Iíve had the opportunity to ruminate, for public consumption, on the one of the most colorful and hilarious places on earth. Thanks, Rhode Island, for being what you are, and thanks, Steve Mindich, Steve Brown, Peter Kadzis, and all the other great Phoenix people, for believing that my fumblings through bogs of metaphor were of interest to the discriminating audience that is the Phoenix readership. (Okay, so some of you are bozos just like me, but itís suck-up time and Iím up for the task.)