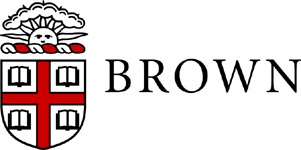 Marvel Gymnasium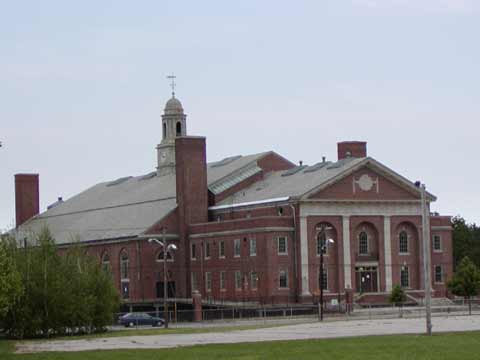 borrowed from http://en.wikipedia.org/wiki/Marvel_Gymnasium
Marvel Gymnasium was a 3,000-seat multipurpose gymnasium in Providence, Rhode Island. It was home to the Brown University Bears basketball team as well as other teams. The gymnasium included a basketball court and seating, a second-floor running track, squash and handball courts, a wrestling room, a boxing room, and a fencing room.
The building was located at Aldrich Field, located on Elmgrove Avenue across from Brown Stadium. The land for Aldrich Field was a gift to the University from brothers Charles and Henry Aldrich, both alumni of Brown. The fašade's clock face read "A-L-D-R-I-C-H-F-I-E-L-D" instead of the regular numbers, with the "R" being in place of the 12. The bronze statue of "Bruno," the Brown bear mascot, was located just to the south of the main entrance on a pedestal containing a piece of slate said to have been from the spot where Roger Williams landed in what would become Providence in 1636. After Marvel Gym was closed, the statue was moved to the College Green, where it originally stood.
On October 7, 1938, the building was rededicated to the memory of Frederick W. "Doc" Marvel, class of 1896, a longtime athletic director. The building was in use until 1989, when the Pizzitola Sports Center opened at the Brown Athletic Conference. It was then closed and stood dormant until 2002, when it was demolished, well past its usefulness and becoming dangerously dilapidated. There are now practice fields on the site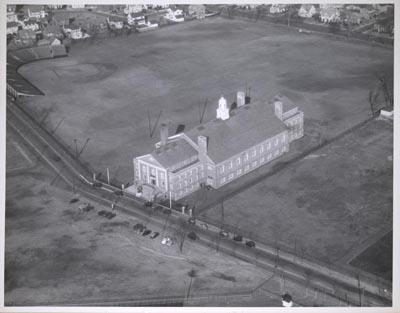 DEMOLITION BEGINS ON MARVEL GYMNASIUM
Aug. 22, 2002 http://www.brownbears.com/genrel/082202aaa.html
Farewell Marvel Gym!
Brown University's Marvel Gymnasium, a landmark on the East Side of Providence since 1927, is entering its final days with the start of demolition of the towering building on Elmgrove Avenue. Located across the street from Brown Stadium, Marvel Gymnasium is being replaced by athletics playing fields for intramurals and rugby
Full demolition began today and will be done in stages, starting with the back of the building. The project is expected to last for another month.
Marvel Gymnasium, named after Brown's long-time athletic Director "Doc" Marvel, has been closed since the Spring of 1989 when the Brown Athletic department moved to the Pizzitola Sports Center. Marvel Gym was the headquarters of Brown Athletics with administrative and coaching offices, and was the home of Brown basketball, volleyball, wrestling and gymnastics. It's final event was held on March 4, 1989 when Brown defeated Columbia in women's basketball.
Some of the all-time greats of college basketball made their way through the hallowed Marvel Gymnasium court, which was framed above with a trademark banked-track. Among the Brown standouts to hone their skills at Marvel are Bears' all-time career scorer Arnie Berman '72, three-time first team All-Ivy Mike Cingiser '62, and Ivy League Players of the Year, Peter Moss '80 and Jim Turner '86. Marvel fans also flocked to see visiting legends including former Holy Cross guard Bob Cousy, and Bill Bradley, Princeton's all-time career scorer.
Marvel has been closed since 1989 and has been used as a facilities storage area for the university. One of Marvel's most distinctive features, the cupola and tower with its gold leaf dome and huge Aldrich Field clocks, will be carefully removed and stored
THE FUTURE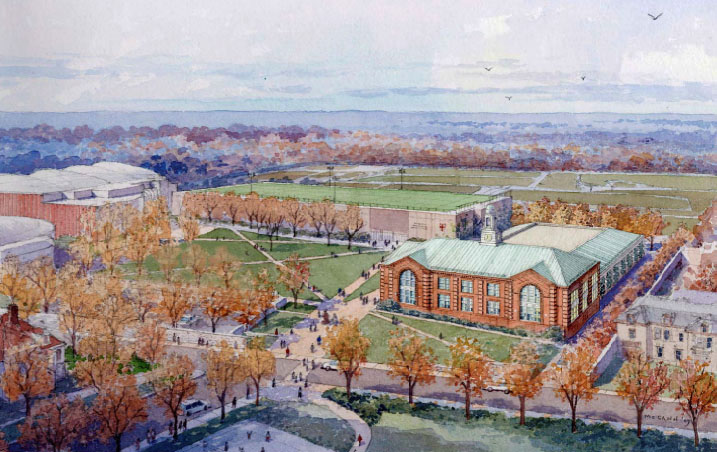 Construction has begun on a new facility, incorporating a fitness center, swimming pool, varsity strength and conditioning center, and a new landscaped athletics quadrangle.