Providence Performing Arts Center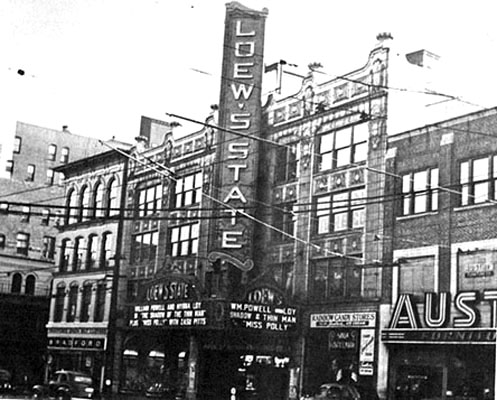 1928-1950 - Loew's State Theatre
The Loew's State opened its doors on October 6, 1928 as a premier picture palace of Rhode Island with a seating capacity is 3232. One of the main draws of the theater was not the films it showed, but its opulent design, created by The Rapp brothers. The Rapps (George and C.W.) were architects who made their name by designing beautiful movie houses, complete with chandeliers hanging from the ceilings, marble columns and detailed moldings on the walls.
On opening day, the feature film attraction was the "Metro Movietone sound picture" Excess Baggage with William Haines. Also on the program were Movietone and Vitaphone offerings, M.G.M. and Fox news, and Joseph Stoves at the "mighty $100,000 Morton organ."The first person to purchase a ticket was a 14-year-old Providence boy by the name of James Riley, who had waited hours for the honor. Over 14,000 people jammed the building to marvel at the eye-popping opulence. The fans were led to their seats by 50 uniformed ushers, past perches in the lobby holding talking parrots.
The theatre earned the distinction of being named to the National Register of Historic Places for its "period of significance" being the Golden Age of the movies, from 1925 to 1949.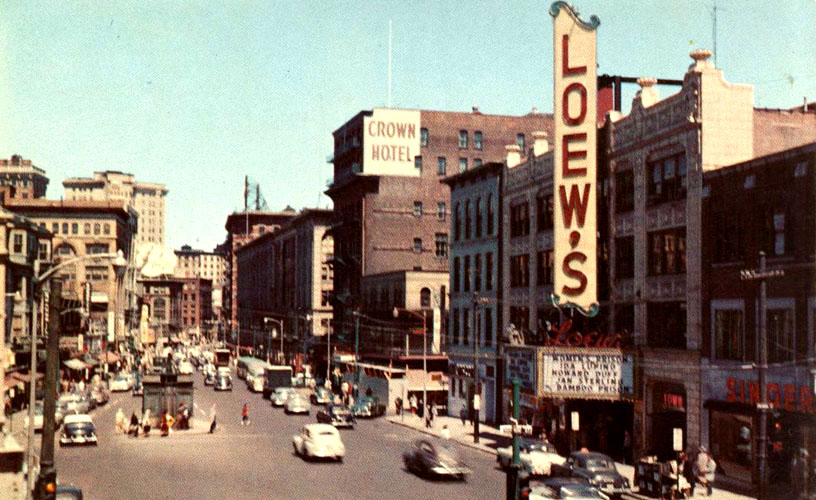 1950 - 1972 - Loew's Theatre
By the late 50's and 60's the theater saw more live concerts as a way to keep the doors open and to keep up with the new trends of the youth market which is now known as "The Golden Age of Rock n Roll".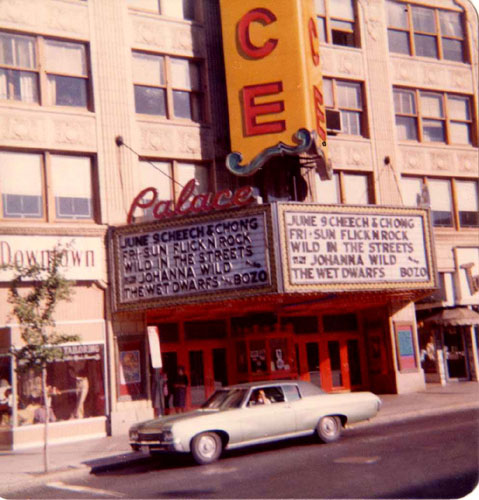 1972 - 1975 - Palace Concert Theatre
By 1971 The Loew's Theatre was purchased by B.A. Dario for $250,000. and it continued to run under that name until February of 1972 when it became the Palace Concert Theatre as a venue for rock concerts. Dario's great nephew Randy Hien worked at the Palace managing concessions and other things before starting his own club called "The Living Room" By this point the building was starting to show its age and the rock audience did not help. The theater got run down with ceiling problems that leaked, too much smoking and abuse with little or no maintenance. On November 1, 1975 Tower of Power and Dr. John played the last show at the Palace.

1975 - 1978 - Politics and Pasta
During this period politics came into play with Mayor Buddy Cianci being the spearhead along with B.A. Dario's wife Sylvia Bacchiocchi to save this majestic palace from being torn down and turned into a parking lot. In reviewing Mayor Cianci's book"Politics and Pasta", David Kaiser wrote "Yet a far more revealing story involves the preservation of Providence's last remaining old movie palace, the downtown Loew's Theater, which subsequently became the Providence Performing Arts Center. The owner, B. A. Dario, had asked for a permit to demolish it. He found "a Waspy group" that wanted to buy and refurbish it, and he went to work making the deal happen, eventually pledging $1 million of city funds, quite possibly without the slightest idea where they would come from. Eventually he closed--or so he thought--the deal, only to get a phone call from Dario demanding an additional $40,000 on the grounds that the buyers had promised to pay him $1000 a day during negotiations. Buddy, who knows how to bargain, solved the problem by appointing Dario "artistic consultant to the city of Providence" for $25,000. "Now that," he writes, "is the kind of deal that I should have gone to jail for." That is only one of at least a dozen stories along those lines, most of them with happy endings.
(Above passage borrowed from David Kaiser called An American Original http://historyunfolding.blogspot.com/2011/05/american-original.html)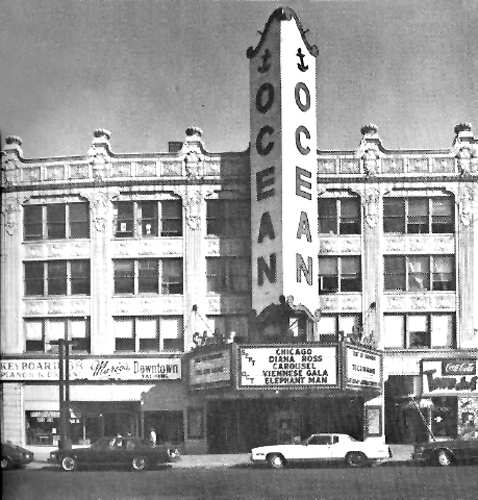 1978 - 1982 - Ocean State Theatre
The theater opened its doors again now as the Ocean State in October of 1978. It ran another four years under that name and even though they wanted to change the image of the venue and book musicals and upscale events, more rock concerts still came to visit the theater because it still brought in more revenue during its transition. The Ocean State did manage to make one investment of significant value by buying an organ.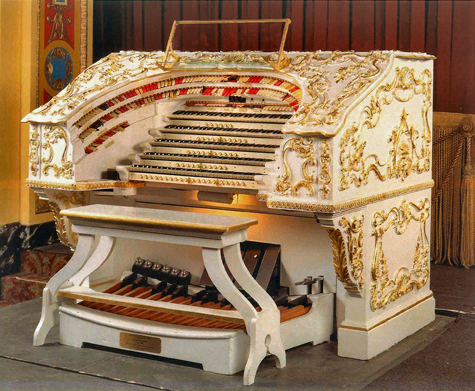 "Arthur P. Slater was the State Theater's chief projectionist for 40 years. One of the major attractions of Loew's State was always the Mighty Morton Organ. On opening night, in 1928, the organ rose dramatically out of the orchestra pit, and was played by Joseph Stover, imported all the way from Paris.
The original 1,500 pipe organ was sold in 1963 to one Patsy Fucci of Waltham, Massachusetts. It had been in the theatre for a good 30-plus years. It was a four-manual Robert-Morton organ that had cost about $125,000 when new in 1928. A Providence Evening Bulletin article of March 16 that year reported manager William Trambukis as saying that Mr. Fucci had carted the organ away over a period of weeks, using big trailers. Some of the pipes were taller than a house. The instrument had only been used occasionally after the advent of sound movies. It had also been seriously damaged in the 1954 hurricane which flooded Loew's. Mr. Fucci was a connoisseur of organs and a post office clerk and would set up the organ in his basement. It would be powered by a motor in his garage.
In 1982 the Ocean State as part of their restoration project decided it needed to purchase another organ to replace the mighty Morton. Finally they found a beautiful Opus 1587. The Wurlitzer Company built only three five-manual organs -- all of which are still playing today. The Opus 1587, with just 21 ranks, opened in Chicago's 3,980-seat Marbro Theatre in 1927. In the early '60s, it was reinstalled in Byron Carlson's Minneapolis, Minnesota home. It remained there until 1982, when he sold it to the Ocean State Theatre in Providence, Rhode Island, where it now is played frequently.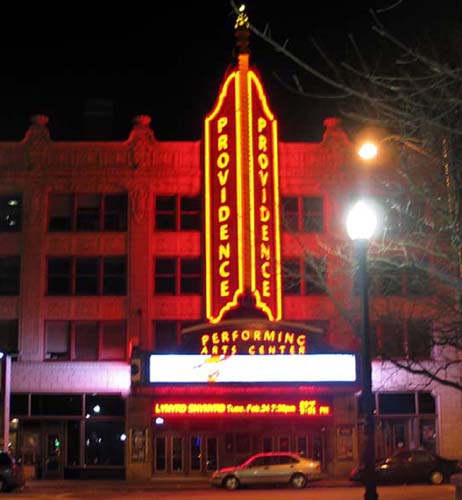 1982 - present - Providence Performing Arts Center
The Providence Performing Arts Center has undergone massive renovations throughout its history. With some of the early work done, the name was changed to the current PPAC in 1982. Renovations throughout the 1990s and early 2000s have allowed the theater to accommodate large Broadway productions as well as orchestra performances. Technology has been brought up-to-date over the years with the addition of air conditioning and heating systems, fire safety measures, LED marquees and flat screen television monitors. Updated seating and electrical wiring have been installed, while cosmetic renovations have recreated the original 1920s-era styling of the Rapp brothers. It now features primarily Broadway show series, as well as Philharmonic concerts and other events, including Bright Night Providence, RI's artist-run New Year's Eve Celebration. PPAC is a theatre of majestic quality and we must always remember the people who fought for its survival at a time when demolition was just around the corner.
Thank you Ms Sylvia (B.A. Dario) Bacchiocchi and Mayor Buddy Cianci for saving this building.
For more pictures of the beautiful renovation work click here.

We ask your help to fill in the history of the theater with other concerts, tickets, ads, photos or recording that may exist. Please send us an email to info@rirock.net
CONCERT WE PRESENTLY KNOW ABOUT

1960 - 1972 - Loew's Theatre
| | | | | | | | | |
| --- | --- | --- | --- | --- | --- | --- | --- | --- |
| | 1960 | MAIN BAND | SUPPORT | SUPPORT | AD | TICKET | PICTURES | TAPE |
| | | | | | | | | |
| | 1961 | MAIN BAND | SUPPORT | SUPPORT | AD | TICKET | PICTURES | TAPE |
| | | | | | | | | |
| | 1962 | MAIN BAND | SUPPORT | SUPPORT | AD | TICKET | PICTURES | TAPE |
| Loew's Theatre, Providence | | The Limeliters | | | YES | | | |
| | 1963 | MAIN BAND | SUPPORT | SUPPORT | AD | TICKET | PICTURES | TAPE |
| Loew's Theatre, Providence | | Dave Brubeck Quartet | | | YES | | | |
| | 1964 | MAIN BAND | SUPPORT | SUPPORT | AD | TICKET | PICTURES | TAPE |
| Loew's Theatre, Providence | March 14, 1964 | The Beatles | (Closed Circuit Big Screen) | | YES | | | Set List |
| Loew's Theatre, Providence | March 15, 1964 | The Beatles | (Closed Circuit Big Screen) | | YES | | | Set List |
| Loew's Theatre, Providence | September 24, 1964 | The Beach Boys | The Kingsmen | Jimmy Griffin | | | | |
| Loew's Theatre, Providence | November 4, 1964 | Rolling Stones | Georgie Porgie & The Cry Babies | | | | YES | |
| | 1965 | MAIN BAND | SUPPORT | SUPPORT | AD | TICKET | PICTURES | TAPE |
| | | | | | | | | |
| | 1966 | MAIN BAND | SUPPORT | SUPPORT | AD | TICKET | PICTURES | TAPE |
| | | | | | | | | |
| | 1967 | MAIN BAND | SUPPORT | SUPPORT | AD | TICKET | PICTURES | TAPE |
| | | | | | | | | |
| | 1968 | MAIN BAND | SUPPORT | SUPPORT | AD | TICKET | PICTURES | TAPE |
| | | | | | | | | |
| | 1969 | MAIN BAND | SUPPORT | SUPPORT | AD | TICKET | PICTURES | TAPE |
| | | | | | | | | |
| | 1970 | MAIN BAND | SUPPORT | SUPPORT | AD | TICKET | PICTURES | TAPE |
| | | | | | | | | |
| | 1971 | MAIN BAND | SUPPORT | SUPPORT | AD | TICKET | PICTURES | TAPE |
| Loew's Theatre, Providence | April 2, 1971 | Elton John | | | YES | | | |
| Loew's Theatre, Providence | April 29, 1971 | The Beach Boys | Swallow | | YES | | | |
| Loew's Theatre, Providence | May 6, 1971 | Emerson, Lake & Palmer | | | YES | | | |
| Loew's Theatre, Providence | October 15, 1971 | Frank Zappa & The Mothers | featuring Flo & Eddie | | | | | |
| Loew's Theatre, Providence | October 17, 1971 | Jeff Beck Group | | | | | | |
| Loew's Theatre, Providence | October 28 1971 | Seatrain | | | YES | | | |
| Loew's Theatre, Providence | November 4, 1971 | Pink Floyd | | | | | | |
| | 1972 | MAIN BAND | SUPPORT | SUPPORT | AD | TICKET | PICTURES | TAPE |
| Loew's Theatre, Providence | January 14, 1972 | Alice Cooper | White Witch | | | | YES | |
| Loew's Theatre, Providence | January 28, 1972 | Jerry Garcia and Howard Wales | Mahavishnu Orchestra | | | | | |
| Loew's Theatre, Providence | February 4, 1972 | Badfinger | Al Kooper | Pure Prairie League | | | | |
1972 - 1975 - Palace Concert Theater
1972
MAIN BAND
SUPPORT
SUPPORT
AD
TICKET
PICTURES
TAPE
Palace Concert Theater, Providence
February 15, 1972
Hair (The Musical)
YES
Palace Concert Theater, Providence
February 16, 1972
Hair (The Musical)
YES
Palace Concert Theater, Providence
February 17, 1972
Hair (The Musical)
YES
Palace Concert Theater, Providence
February 18, 1972
Hair (The Musical)
YES
Palace Concert Theater, Providence
February 19, 1972
Hair (The Musical)
YES
Palace Concert Theater, Providence
February 20, 1972
Hair (The Musical)
YES
Palace Concert Theater, Providence
March 24, 1972
Savoy Brown
Fleetwood Mac
John Baldry
Palace Concert Theater, Providence
April 11, 1972
Procol Harum
Climax Blues Band
YES
Palace Concert Theater, Providence
April 19, 1972
Melanie
Palace Concert Theater, Providence
May 4, 1972
Edgar Winter's White Trash
Shaky Legs
YES
Palace Concert Theater, Providence
May 12, 1972
Lee Michaels
Jo Jo Gunne
YES
Palace Concert Theater, Providence
July 11, 1972
Deep Purple
John Kay
Curved Air
Palace Concert Theater, Providence
August 18, 1972
Bread
England Dan & John Ford Coley
YES
Palace Concert Theater, Providence
August 19, 1972
The Doors
Dr. John the Night Tripper
Phlorescent Leech & Eddie
YES
Palace Concert Theater, Providence
September 9, 1972
J.Geils Band
Eagles
YES
Palace Concert Theater, Providence
September 15, 1972
T. Rex
YES
SET LIST
Palace Concert Theater, Providence
October 13, 1972
John Mayall
Palace Concert Theater, Providence
October 25, 1972
Beck, Bogart & Appice
Foghat
YES
Palace Concert Theater, Providence
November 11, 1972
Frank Zappa & The Mothers
Palace Concert Theater, Providence
November 18, 1972
The Kinks
Recorded
Palace Concert Theater, Providence
December 2, 1972
Mahavishnu Orchestra
Mott the Hoople
YES
Palace Concert Theater, Providence
December 13, 1972

Poco

Palace Concert Theater, Providence
December 31, 1972

Al Cooper

Flash

1973
MAIN BAND
SUPPORT
SUPPORT
AD
TICKET
PICTURES
TAPE
Palace Concert Theater, Providence
January 26, 1973
Edgar Winter Group
James Montgomery Band
YES
Recorded
Palace Concert Theater, Providence
February 17, 1973
America
Palace Concert Theater, Providence

March 11, 1973

Bee Gees

Palace Concert Theater, Providence
March 23, 1973
Lou Reed
Bruce Springsteen & The E Street Band
YES
Palace Concert Theater, Providence

March 29, 1973

James Gang
Palace Concert Theater, Providence
April 4, 1973
The Kinks
Aerosmith
Palace Concert Theater, Providence
April 8, 1973
Bette Midler
YES
Palace Concert Theater, Providence
May 19, 1973
J.Geils Band
YES
Palace Concert Theater, Providence
June 9, 1973
Cheech & Chong
YES
Palace Concert Theater, Providence

April 28, 1973

Uriah Heep
Palace Concert Theater, Providence
June 29, 1973
Savoy Brown
Blue Öyster Cult
David Blue
YES
YES
Palace Concert Theater, Providence

July 2, 1973

Donovan
Palace Concert Theater, Providence
August 4, 1972
America
Jackson Browne
Palace Concert Theater, Providence
August 11, 1973
Mott the Hoople
The James Gang
YES
Palace Concert Theater, Providence
September 21, 1973
King Crimson
Flo & Eddie
YES
Palace Concert Theater, Providence

October 13, 1973

Cheech & Chong

Palace Concert Theater, Providence
October 24, 1973
Mott the Hoople
Aerosmith
YES
YES
Recorded
Palace Concert Theater, Providence

November 3, 1973

George Carlin

Kenny Rankin
Palace Concert Theater, Providence
November 11, 1973

John Mayall

Argent
YES
Palace Concert Theater, Providence
December 7, 1973
Eagles
James Montgomery Band
Maria Muldaur
YES
Palace Concert Theater, Providence
Dec

ember 12, 1973

Billy Preston
James Cotton Blues Band
YES
Palace Concert Theater, Providence
December 14, 1973
Lou Reed
YES
Set List
Palace Concert Theater, Providence

December 15, 1973

Aerosmith
Paul Pena

YES

Palace Concert Theater, Providence
December 28, 1973
Mountain
Duke Williams & The Extremes
YES
YES
Recorded
1974
MAIN BAND
SUPPORT
SUPPORT
AD
TICKET
PICTURES
TAPE
Palace Concert Theater, Providence
January 26, 1974
Bonnie Raitt
Roomful of Blues
YES
Recorded
Palace Concert Theater, Providence
February 22, 1974
Jackson Browne
Linda Ronstadt
YES
SET LIST
Palace Concert Theater, Providence

March 1, 1974

Bee Gees

Palace Concert Theater, Providence
March 10, 1974
Joe Walsh
Marshall Tucker Band
YES
YES
Recorded
Palace Concert Theater, Providence
March 26, 1974
Jefferson Starship
Steelwind
YES
Recorded
Palace Concert Theater, Providence
April 7, 1974
Greg Allman Band
Palace Concert Theater, Providence
April 13, 1974
Steely Dan
YES
Palace Concert Theater, Providence
April 27, 1974
Mott The Hoople
Queen
Kenny Lyons & Tombstone
YES
YES
YES
Recorded
Palace Concert Theater, Providence

May 4, 1974

ZZ Top

James Montgomery

Robin Trower
Palace Concert Theater, Providence
May 5. 1974

George Carlin

Kenny Rankin

YES
Palace Concert Theater, Providence
May 10, 1974
Hot Tuna
Al Stewart
YES
YES
YES
Palace Concert Theater, Providence
May 20, 1974
Eagles
REO Speedwagon
Palace Concert Theater, Providence
May 23, 1974
Mountain
Sharks
YES
YES
YES
Recorded
Palace Concert Theater, Providence
May 24, 1974
Aerosmith
YES
YES
YES
Palace Concert Theater, Providence
June 2, 1974
Slade
10CC
YES
YES
YES
Recorded
Palace Concert Theater, Providence
June 30, 1974
King Crimson
Steeleye Span
YES
YES
YES
Recorded
Palace Concert Theater, Providence
August 4, 1974
Aerosmith
Uriah Heep
Manfred Mann
Palace Concert Theater, Providence
August 9, 1974
Earth, Wind, and Fire
Duke Williams & The Extremes
YES
YES
Palace Concert Theater, Providence
September 2, 1974
Foghat
James Montgomery Band
YES
YES
Recorded
Palace Concert Theater, Providence
October 4, 1974
Aerosmith
Elephants Memory
YES
YES
YES
Recorded
Palace Concert Theater, Providence
October 12, 1974
Fleetwood Mac
Triumvirate
YES
YES
Recorded
Palace Concert Theater, Providence
October 19, 1974
Jackson Browne
Bonnie Raitt
YES
YES
Recorded
Palace Concert Theater, Providence
October 26, 1974
Van Morrison
Persuasions

YES

Recorded
Palace Concert Theater, Providence
November 8, 1974
Dickey Betts Band
Wet Willie

YES

Palace Concert Theater, Providence
November 29, 1974
Marshall Tucker Band
Charlie Daniels Band
YES
YES
Recorded
Palace Concert Theater, Providence
November 30, 1974
The Kinks
YES
YES
Recorded
Palace Concert Theater, Providence
December 7, 1974
Electric Light Orchestra
Hello People
YES
YES
YES
Recorded
Palace Concert Theater, Providence
December 8, 1974
Genesis
YES
YES
YES
Recorded
Palace Concert Theater, Providence
December 13, 1974
Jesus Christ Superstar

YES

Recorded
1975
MAIN BAND
SUPPORT
SUPPORT
AD
TICKET
PICTURES
TAPE
Palace Concert Theater, Providence
February 3, 1975
Joe Walsh
R.E.O. Speedwagon
Charlie Daniels Band
YES
YES
Recorded
Palace Concert Theater, Providence
February 20, 1975
Sha Na Na
Barnaby Bye
YES
YES
Palace Concert Theater, Providence
April 25, 1975
Lou Reed
String Driven Thing
YES
YES
Recorded
Palace Concert Theater, Providence
July 20, 1975
Bruce Springsteen & The E Street Band
YES
YES
Recorded
Palace Concert Theater, Providence
September 13, 1975
Average White Band
Johanna Wild
YES
YES
Recorded
Palace Concert Theater, Providence
October 23, 1975
Jerry Garcia Band

YES

Recorded

Palace Concert Theater, Providence
October 24, 1975
Frank Zappa
YES
Set List
Palace Concert Theater, Providence
November 1, 1975
Tower Of Power
Dr. John
1976 - 1977 - Closed No Shows
1978 - 1982 - Ocean State Theatre
| | | | | | | | | |
| --- | --- | --- | --- | --- | --- | --- | --- | --- |
| | 1978 | MAIN BAND | SUPPORT | SUPPORT | AD | TICKET | PICTURES | TAPE |
| Ocean State Theatre, Providence | October 6, 1978 | Ethel Merman | Brain Jones All Tap Revue | Quantico Marine Band | | | YES | |
| Ocean State Theatre, Providence | November 4, 1978 | George Benson | | | | YES | | |
| | 1979 | MAIN BAND | SUPPORT | SUPPORT | AD | TICKET | PICTURES | TAPE |
| Ocean State Theatre, Providence | April 20, 1979 | Liza Minnelli | | | | | | |
| Ocean State Theatre, Providence | April 21, 1979 | Liza Minnelli | | | | | | |
| Ocean State Theatre, Providence | September 9, 1979 | Dire Straits | Ian Gomm | | YES | YES | | Recorded |
| Ocean State Theatre, Providence | November 10, 1979 | Talking Heads | Pearl Harbor | | YES | | | |
| Ocean State Theatre, Providence | December 7, 1979 | Rainbow | Scorpions | | YES | | | |
| | 1980 | MAIN BAND | SUPPORT | SUPPORT | AD | TICKET | PICTURES | TAPE |
| Ocean State Theatre, Providence | February 21, 1980 | Gary Numan | | | | | | Set List |
| Ocean State Theatre, Providence | February 26, 1980 | Jerry Garcia Band | Robert Hunter | | | | | Recorded |
| Ocean State Theatre, Providence | March 24, 1980 | Cheap Trick | | | | YES | YES | Recorded |
| Ocean State Theatre, Providence | May 11, 1980 | Bob Dylan | | | | | | Recorded |
| Ocean State Theatre, Providence | May 12, 1980 | Bob Dylan | | | | | | |
| Ocean State Theatre, Providence | July 3, 1980 | Tom Petty & the Heartbreakers | Dave Edmunds Rockpile | | YES | YES | | |
| Ocean State Theatre, Providence | October 6, 1980 | Natalie Cole | Lou Rawls | | | | | |
| Ocean State Theatre, Providence | October 8, 1980 | Todd Rundgren and Ian Hunter | | | YES | | | Set List |
| Ocean State Theatre, Providence | September 18, 1980 | Diana Ross | | | | | | |
| Ocean State Theatre, Providence | September 19, 1980 | Diana Ross | | | | | | |
| Ocean State Theatre, Providence | September 20 1980 | Diana Ross | | | | | | |
| Ocean State Theatre, Providence | September 21, 1980 | Diana Ross | | | | | | |
| Ocean State Theatre, Providence | September 22, 1980 | Diana Ross | | | | | | |
| Ocean State Theatre, Providence | September 23, 1980 | Diana Ross | | | | | | |
| Ocean State Theatre, Providence | November 7, 1980 | Talking Heads | | | YES | | | Recorded |
| | 1981 | MAIN BAND | SUPPORT | SUPPORT | AD | TICKET | PICTURES | TAPE |
| Ocean State Theatre, Providence | January 10, 1981 | Allman Brothers Band | | | | | | |
| Ocean State Theatre, Providence | February 4, 1981 | Elvis Costello & The Attractions | Squeeze | | | | | Recorded |
| Ocean State Theatre, Providence | February 9, 1981 | Jerry Garcia Band | | | | | | Set List |
| Ocean State Theatre, Providence | August 7, 1981 | Ozzy Osbourne | Def Leppard | | YES | YES | YES | Set List |
| Ocean State Theatre, Providence | August 20, 1981 | Alice Cooper | | | YES | | | |
| Ocean State Theatre, Providence | September 19, 1981 | The Rolling Stones | | | | | | |
| Ocean State Theatre, Providence | November 4, 1981 | Frank Zappa | | | | | | |
| Ocean State Theatre, Providence | November 6, 1981 | Devo | | | | | | |
| Ocean State Theatre, Providence | November 15, 1981 | Jerry Garcia Band | | | | | | Set List |
| | 1982 | MAIN BAND | SUPPORT | SUPPORT | AD | TICKET | PICTURES | TAPE |
| Ocean State Theatre, Providence | January 30, 1982 | Bobby & The Midnites | | | | YES | | |
| Ocean State Theatre, Providence | March, 1982 | B-52's | The Bongos | | | | | |
| Ocean State Theatre, Providence | May 9, 1982 | Sammy Hagar | Aldo Nova | | YES | | | |
1983 - present - Providence Performing Arts Center
1983
MAIN BAND
SUPPORT
SUPPORT
AD
TICKET
PICTURES
TAPE
Providence Performing Arts Center

November 15, 198

3
Boston Symphony Orchestra
1984
MAIN BAND
SUPPORT
SUPPORT
AD
TICKET
PICTURES
TAPE
Providence Performing Arts Center
January 10, 1984
Boston Symphony Orchestra
Providence Performing Arts Center
March 19, 1984
Boston Symphony Orchestra
1985
MAIN BAND
SUPPORT
SUPPORT
AD
TICKET
PICTURES
TAPE
Providence Performing Arts Center

April 21, 1985

Joan Armatrading
Providence Performing Arts Center
October 13, 1985
Stevie Ray Vaughan
YES
Recorded
Providence Performing Arts Center
December 19, 1985
Squeeze
Providence Performing Arts Center
December 28, 1985
John Cafferty & The Beaver Brown Band
1986
MAIN BAND
SUPPORT
SUPPORT
AD
TICKET
PICTURES
TAPE
Providence Performing Arts Center
April 16, 1986
Robert Palmer
Providence Performing Arts Center
June 27, 1986
Tangerine Dream
Providence Performing Arts Center
July 26, 1986
Joan Armatrading
Graham Nash
Providence Performing Arts Center
July 28, 1986
INXS
The Del Fuegos
Providence Performing Arts Center
July 29, 1986
Psychedelic Furs
Providence Performing Arts Center
September 15, 1986
Emerson, Lake, & Powell
Providence Performing Arts Center
November 29, 1986
Stevie Ray Vaughan
Roomful Of Blues
YES
Set List
Providence Performing Arts Center

December 26, 1986

John Cafferty & The Beaver Brown Band
Recorded
1987
MAIN BAND
SUPPORT
SUPPORT
AD
TICKET
PICTURES
TAPE
Providence Performing Arts Center
September 26, 1987
Warren Zevon
X
Providence Performing Arts Center
October 19, 1987
REM
Recorded
Providence Performing Arts Center
November 9, 1987
Squeeze
1988
MAIN BAND
SUPPORT
SUPPORT
AD
TICKET
PICTURES
TAPE
Providence Performing Arts Center
April 5, 1988
Little Feat
Providence Performing Arts Center
April 11, 1988
Stevie Ray Vaughan
Recorded
Providence Performing Arts Center
October 4, 1988
Little Feat
1989
MAIN BAND
SUPPORT
SUPPORT
AD
TICKET
PICTURES
TAPE
Providence Performing Arts Center
January 31, 1989
Cheap Trick
House Of Lords
Providence Performing Arts Center
August 10, 1989
Sam Kinison
Providence Performing Arts Center
November 30, 1989
Squeeze
1990
MAIN BAND
SUPPORT
SUPPORT
AD
TICKET
PICTURES
TAPE
Providence Performing Arts Center
February 4, 1990
K.D. Lang & the Reclines
Providence Performing Arts Center
April 1, 1990
George Carlin
1991
MAIN BAND
SUPPORT
SUPPORT
AD
TICKET
PICTURES
TAPE
Providence Performing Arts Center
February 14, 1991
Living Colour
Urban Dance Squad
Providence Performing Arts Center
February 22, 1991
B.B. King
Roomful Of Blues
Providence Performing Arts Center
March 27, 1991
George Thorogood & The Destroyers
Providence Performing Arts Center
October 22, 1991
Squeeze
1992
MAIN BAND
SUPPORT
SUPPORT
AD
TICKET
PICTURES
TAPE
Providence Performing Arts Center
June 6, 1992
K.D. Lang
Providence Performing Arts Center
June 20, 1992
Jerry Seinfeld
Providence Performing Arts Center

October 25, 1992

Bob Dylan
Set List
Providence Performing Arts Center
November 8, 1992
Santana
Recorded
Providence Performing Arts Center
November 25, 1992
James Taylor
1993
MAIN BAND
SUPPORT
SUPPORT
AD
TICKET
PICTURES
TAPE
Providence Performing Arts Center
January 19, 1993
B'52's
Providence Performing Arts Center
January 22, 1993
Extreme
Providence Performing Arts Center
January 30, 1993
Emerson, Lake & Palmer
Set List
Providence Performing Arts Center
February 4, 1993
Phish
Set List
Providence Performing Arts Center
April 5, 1993
The Black Crowes
Set List
Providence Performing Arts Center
April 6, 1993
The Black Crowes
Set List
Providence Performing Arts Center
April 15, 1993
B.B. King
1994
MAIN BAND
SUPPORT
SUPPORT
AD
TICKET
PICTURES
TAPE
Providence Performing Arts Center
February 16, 1994
Jackson Browne
Providence Performing Arts Center
October 12, 1994
Bob Dylan
Set List
Providence Performing Arts Center
November 19, 1994
Lyle Lovett & His Large Band
1995
MAIN BAND
SUPPORT
SUPPORT
AD
TICKET
PICTURES
TAPE
1996
MAIN BAND
SUPPORT
SUPPORT
AD
TICKET
PICTURES
TAPE
Providence Performing Arts Center
August 24, 1996
Tori Amos

Set List

Providence Performing Arts Center
September 19, 1996
Bruce Springsteen
YES
Recorded
1997
MAIN BAND
SUPPORT
SUPPORT
AD
TICKET
PICTURES
TAPE

Providence Performing Arts Center

July 9, 1997

Crosby, Stills & Nash

1998
MAIN BAND
SUPPORT
SUPPORT
AD
TICKET
PICTURES
TAPE

Providence Performing Arts Center

March 29, 1998

Sarah McLachlan

Lisa Loeb

Set List

Providence Performing Arts Center

October 25, 1998

Tori Amos

Set List

1999
MAIN BAND
SUPPORT
SUPPORT
AD
TICKET
PICTURES
TAPE

Providence Performing Arts Center

November 26, 1999

Sting

Providence Performing Arts Center

December 13, 1999

Barenaked Ladies

2000
MAIN BAND
SUPPORT
SUPPORT
AD
TICKET
PICTURES
TAPE
2001
MAIN BAND
SUPPORT
SUPPORT
AD
TICKET
PICTURES
TAPE
Providence Performing Arts Center
April 28, 2001
Ray Charles w/ Rhode Island Philharmonic

Providence Performing Arts Center
May 20, 2001
Jerry Seinfeld
Providence Performing Arts Center
September 29, 2001
The Black Crowes
Set List
2002
MAIN BAND