THE LIVING ROOM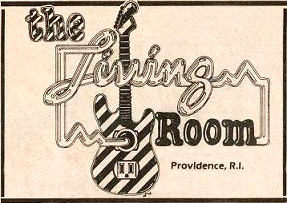 HISTORY
The Living Room was created by Ranby Hien and was located on Westminster Street in downtown Providence across the street from Lupo's Heatbreak Hotel at the southwest end of Westminster Street. Its focus was more on the burgeoning local scene. The room was long and narrow and the stage was in the corner as you walked in against the window on Westminster. Mainstays at the Living Room included the Probers, the DC Tenz, the Schemers, and the Mundanes. A lot of the bands from Boston also came to play the venue including the Neighborhoods, Lou Miami and the Kosmetix, Human Sexual Response, and Robin Lane and the Chartbusters.

In May 1981 The Living Room closed down to make way for a federal building that would eventually take its location. The second Living Room opened in what was known as the Bubble complex because its its bubble skylights. This space was located at 273 Promenade St in Providence and hosted many national as well as local acts like The Ramones, Cyndi Lauper, Todd Rundgren, Motörhead, Joe Perry Project...etc This Living Room ran until the beginning of 1990 at which point it closed down for a few years.
In 1995 The Living Room reopened again at 23 Rathbone Street in Providence where it continues to host many great local and national acts.
In a sad note, our beloved owner and friend Randy Hien was accidentally killed by a motorist near his home in September 2006. His death spurred tributes on TV, in newspapers and on the Internet.
Click here to read articles on the life of Randal Hien.
CONCERT WE PRESENTLY KNOW ABOUT
1975-1981 - The Living Room (#1) - 380 Westminster Street, Providence, RI 02903
| | | | | | | | | |
| --- | --- | --- | --- | --- | --- | --- | --- | --- |
| VENUE | YEAR | MAIN BAND | SUPPORT | SUPPORT | AD | TICKET | PICTURES | TAPE |
| | | | | | | | | |
| | 1975 | MAIN BAND | SUPPORT | SUPPORT | AD | TICKET | PICTURES | TAPE |
| Living Room, Providence | 1975 | Randy Hien opens the Living Room for business | | | | | | |
| | 1980 | MAIN BAND | SUPPORT | SUPPORT | AD | TICKET | PICTURES | TAPE |
| Living Room, Providence | April 9, 1980 | Robin Laine & the Chartbusters | The Probers | | | | | |
| Living Room, Providence | April 10, 1980 | Robin Laine & the Chartbusters | Buddy Erkin Band | | | | | |
| Living Room, Providence | May 23, 1980 | The Pepitones | The Neighborhoods | | | | | |
| Living Room, Providence | May 25, 1980 | Jon Butcher Axis | | | | | | |
| Living Room, Providence | May 26, 1980 | Human Sexual Response | | | | | | |
| Living Room, Providence | May 27, 1980 | Human Sexual Response | | | | | | |
| Living Room, Providence | June 12, 1980 | Mission Of Burma | New Models | | | | | |
| Living Room, Providence | September 26, 1980 | Mission Of Burma | Human Sexual Response | | | | | |
| Living Room, Providence | October 12, 1980 | Mission Of Burma | Boy's Life | | | | | |
| | 1981 | MAIN BAND | SUPPORT | SUPPORT | AD | TICKET | PICTURES | TAPE |
| Living Room, Providence | January 16, 1981 | Mission Of Burma | New Models | | | | | |
1981-1990 - The Living Room (#2 Bubble complex) - 273 Promenade Street, Providence, RI 02908
VENUE
YEAR
MAIN BAND
SUPPORT
SUPPORT
AD
TICKET
PICTURES
TAPE
Living Room, Providence
August 14, 1981
Dead Boys
Proletariat
1982
MAIN BAND
SUPPORT
SUPPORT
AD
TICKET
PICTURES
TAPE
Living Room, Providence
February 20, 1982
The Ramones
Living Room, Providence
May 1, 1982
Boy's Life
Proletariat
Living Room, Providence
May 12, 1982
Dave Edmunds
Living Room, Providence
May 26, 1982
GG Allin
Proletariat
Living Room, Providence
May 28, 1982
Tom Verlaine
Living Room, Providence
June 30, 1982
Jonathan Richman
Living Room, Providence
July 23, 1982
Mission Of Burma
The Neats
Living Room, Providence
July 29, 1982
Flesheaters
Proletariat
Living Room, Providence
September 4, 1982
Billy Idol
Trademarks
Mike Viola
Living Room, Providence
September 13, 1982
Bad Brians
Proletariat
Living Room, Providence
October 1, 1982
The Ramones
Living Room, Providence
October 10, 1982
Mission Of Burma
Living Room, Providence
October 20, 1982
Puppet Rulers
Modern Pioneers
YES
Living Room, Providence

October 22, 1982

Rockats
Glen Phillips
YES
Living Room, Providence

October 23, 1982

Robin Lane & the Chartbusters
The Shake
YES
Living Room, Providence
October 24, 1982
The Producers
Rash of Stabbings
YES
Living Room, Providence

October 28, 1982

Johnny Thunders
YES
Living Room, Providence
October 24, 1982
Livingston Taylor
YES
Living Room, Providence
October 31, 1982
Lou Miami & the Kozmetix
YES
Living Room, Providence
November 2, 1982
John Cale
Recorded
Living Room, Providence
November 4, 1982
Andy Pratt
YES
Living Room, Providence
November 5, 1982
The Neighborhoods
YES
Living Room, Providence
November 6, 1982
The Persuasions
YES
Living Room, Providence
November 12, 1982
Wall Of Voodoo
YES
Living Room, Providence
November 13, 1982
Payolas
The Schemers
YES
Living Room, Providence
November 29, 1982
The Possesions
Proletariat
Living Room, Providence
December 3, 1982
The Neighborhoods
Rash of Stabbings
YES
Living Room, Providence
December 4, 1982
James Montgomery Band
YES
Living Room, Providence
December 10, 1982
Robin Laine & the Chartbusters
YES
Living Room, Providence
December 11, 1982
Robin Laine & the Chartbusters
YES
1983
MAIN BAND
SUPPORT
SUPPORT
AD
TICKET
PICTURES
TAPE
Living Room, Providence
January 6, 1983
Bow Wow Wow
YES
Living Room, Providence
January 7, 1983
Bow Wow Wow
Living Room, Providence
January 8, 1983
Mission of Burma
Proletariat
Living Room, Providence
February 5, 1983
Richard Hell & The Voidoids
Proletariat
Living Room, Providence
April 29, 1983
R.E.M.
Arms Akimbo
Prisoners of Beat
Living Room, Providence
May 1, 1983
.007
Proletariat
Rash of Stabbings
Living Room, Providence
May 23, 1983
Circle Jerks
Proletariat
Living Room, Providence
June 3, 1983
The Schemers
YES
Living Room, Providence
June 4, 1983
Robin Lane & the Chartbusters
The Shake
YES
Living Room, Providence
June 11, 1983
Lou Miami & the Kozmetix
YES
Living Room, Providence
June 12, 1983
The Schemers
YES
Living Room, Providence
June 24, 1983
Berlin Airlift
Glen Phillips
YES
Living Room, Providence
June 25, 1983
Neighborhoods
YES
Living Room, Providence
July 8, 1983
Bad Brains
Proletariat
YES
Living Room, Providence
July 9, 1983
Ministry
YES
Living Room, Providence
July 14, 1983
R.E.M.
Parallel 5th
YES
Living Room, Providence
July 15, 1983
The Waitresses
YES
Living Room, Providence
July 21, 1983
The Schemers
YES
Living Room, Providence
July 22, 1983
Lou Miami & the Kozmetix
YES
Living Room, Providence
July 29, 1983
The Fleshtones
YES
Living Room, Providence
July 30, 1983
Neighborhoods
YES
Living Room, Providence
August 21, 1983
Idle Rich
Proletariat
Living Room, Providence
October 1, 1983
Idle Rich
Proletariat
Living Room, Providence
October 13, 1983
R.E.M.
Let's Active
Living Room, Providence
November 3, 1983
Circle Jerks
Proletariat
Living Room, Providence
November 5, 1983
Bobby & The Midnites
Living Room, Providence
November 21, 1983
Circle Jerks
Verbal Assault
YES
Living Room, Providence
November 25, 1983
The Neighborhoods
YES
Living Room, Providence
December 2, 1983
Joe Perry Project
YES
Living Room, Providence
December 3, 1983
Cyndi Lauper
YES
Living Room, Providence
December 9, 1983
999
YES
Living Room, Providence
December 12, 1983
Alarm
YES
Living Room, Providence
December 16, 1983
Jon Butcher Axis
YES
Living Room, Providence
December 30, 1983
The Ramones
1984
MAIN BAND
SUPPORT
SUPPORT
AD
TICKET
PICTURES
TAPE
Living Room, Providence
January 16, 1984
Idle Rich
Proletariat
Living Room, Providence
March 10, 1984
The Ramones
Living Room, Providence
March 23, 1984
Alien Sex Fiend
Proletariat
Living Room, Providence
May 25, 1984
Wire Train
The Schemers
YES
Living Room, Providence
May 27, 1984
Violent Femmes
Lifeboat
YES
Living Room, Providence
June 9, 1984
The Neighborhoods
YES
Living Room, Providence
June 28, 1984
The Ramones
Living Room, Providence
August , 1984
Al Stewart
Living Room, Providence
October 12, 1984
The Ramones
Living Room, Providence
November 7, 1984
John Cale
YES
Recorded
Living Room, Providence
November 21, 1984
The Church
Living Room, Providence
December 25, 1984
The Schemers
YES
Living Room, Providence
December 26, 1984
Todd Rundgren
YES
Living Room, Providence
December 28, 1984
The Neighborhoods
Rash of Stabbings
YES
Living Room, Providence
December 30, 1984
Del-Lords
YES
Living Room, Providence
December 31, 1984
The Schemers
MX
YES
1985
MAIN BAND
SUPPORT
SUPPORT
AD
TICKET
PICTURES
TAPE
Living Room, Providence
January 4, 1985
Lou Miami & the Kozmetix
YES
Living Room, Providence
January 5, 1985
Til Tuesday
YES
Living Room, Providence
January 12, 1985
Robin Lane & the Chartbusters
YES
Living Room, Providence
January 18, 1985
The Probers
YES
Living Room, Providence
January 25, 1985
Tom Robinson
YES
Living Room, Providence
February 14, 1985
Gun Club
YES
Living Room, Providence
March 8, 1985
The Ramones
Living Room, Providence
May 20, 1985
The Ramones
Living Room, Providence
June 23, 1985
The Outlaws
Living Room, Providence
July 1, 1985
Rash Of Stabbings
Proletariat
Living Room, Providence

September 26, 1985

Al Stewart

YES

Living Room, Providence
October 12, 1985
The Ramones
Living Room, Providence
November 19, 1985
Bears w/ Adrian Belew
1986
MAIN BAND
SUPPORT
SUPPORT
AD
TICKET
PICTURES
TAPE
Living Room, Providence
March 29, 1986
Lou Miami & the Kozmetix
Rash of Stabbings
YES
Living Room, Providence
April 1, 1986
The Fools
YES
Living Room, Providence
April 3, 1986
Dead Milkmen
Coat Of Arms
YES
Living Room, Providence
April 4, 1986
The Neighborhoods
YES
Living Room, Providence
April 6, 1986
Venom
Living Room, Providence
June 25, 1986
The Ramones
Living Room, Providence
July , 1986
Bears w/ Adrian Belew
Living Room, Providence
July 12, 1986
The Neighborhoods
YES
Living Room, Providence
July 26, 1986
The Church
Living Room, Providence
August 1, 1986
Blue Öyster Cult
Living Room, Providence
October 18, 1986
The Ramones
Living Room, Providence
October 27, 1986
Chick Corea
Alan Holdsworth
Living Room, Providence
November , 1986
Megadeth
Living Room, Providence

November 24, 1986

Motörhead

Lizzy Borden
Living Room, Providence
December 1, 1986
Slayer
Overkill
Living Room, Providence
December 13, 1986
Todd Rundgren
1987
MAIN BAND
SUPPORT
SUPPORT
AD
TICKET
PICTURES
TAPE
Living Room, Providence
January 9, 1987
Johnny Thunders
Gang Green
Living Room, Providence
January 10, 1987
Lou Miami & The Kozmetix
Push Comes II Shove
Living Room, Providence
January 16, 1987
Bad Brains
Verbal Assault
Living Room, Providence
January 17, 1987
The Schemers
Rash Of Stabbings
Living Room, Providence
January 18, 1987
Cro-Mags
Living Room, Providence
January 24, 1987
Marshall Tucker Band
Living Room, Providence
January 31, 1987
The Extreme
Triton
Living Room, Providence
February 6, 1987
The Fools
MX
Living Room, Providence
February 7, 1987
The Neighborhoods
Living Room, Providence
February 8, 1987
Dickey Betts Band
Living Room, Providence
February 13, 1987
Bo Diddley
Living Room, Providence
February 15, 1987
The Extreme
Triton
Living Room, Providence
February 16, 1987
The Meatmen
Straw Dogs
Living Room, Providence
February 26, 1987
Del Fuegos
Batalonia
Living Room, Providence
March 14, 1987
Alvin Lee
The Hurricanes
YES
Living Room, Providence
March 16, 1987
Firehose
DC3
YES
Living Room, Providence
March 17, 1987
Hoodoo Gurus
YES
Living Room, Providence
March 20, 1987
Crowded House
The Raindogs
YES
Living Room, Providence
March 21, 1987
Gregg Allman Band

Ken Lyon & Tombstone

YES
Living Room, Providence
March 27, 1987
The Neighborhoods
YES
Living Room, Providence
March 28, 1987
Throwing Muses
YES
Living Room, Providence
March 29, 1987
The Extreme
YES
Living Room, Providence
April 2, 1987
Johnny Winter
Living Room, Providence
April 3, 1987
Wang Chung
Living Room, Providence
April 5, 1987
Motörhead
Malice
Living Room, Providence
April 10, 1987
Face to Face
Living Room, Providence
April 11, 1987
Rash Of Stabbings
Living Room, Providence
April 24, 1987
Circle Jerks
Living Room, Providence
April 30, 1987
Tower Of Power
Living Room, Providence
May 1, 1987
Extreme
Living Room, Providence
May 2, 1987
Sonic Youth
Batalonia
Living Room, Providence
May 4, 1987
Voivod
Kreator
Living Room, Providence
May 5, 1987
Jon Butcher
Living Room, Providence
May 7, 1987
Butthole Surfers
Living Room, Providence
May 8, 1987
Suicidal Tendencies
Living Room, Providence
May 9, 1987
Roomful Of Blues
Robin Trower
Living Room, Providence
May 10, 1987
World Party
Living Room, Providence
May 11, 1987
Henry Rollins Band
JD Suther
Karla Bonoff
Living Room, Providence
May 12, 1987
China Crisis
Living Room, Providence
May 13, 1987
Neville Brothers
Living Room, Providence
May 15, 1987
The Ramones
Living Room, Providence
May 22, 1987
Throwing Muses
The Pixies
Living Room, Providence
May 23, 1987
The Wailers
One People
Living Room, Providence
May 24, 1987
The Extreme
Triton
Living Room, Providence
May 27, 1987
Megadeth
Overkill
Living Room, Providence
May 29, 1987
The Neighborhoods
Living Room, Providence
June 1, 1987
Anthrax
Metal Church
Living Room, Providence
June 12, 1987
Rash Of Stabbings
Living Room, Providence
June 13, 1987
The Extreme
Living Room, Providence
June 19, 1987
Bears w/ Adrian Belew
Living Room, Providence
June 20, 1987
The Guess Who
Living Room, Providence
June 22, 1987
Dirty Rotten Imbeciles
Living Room, Providence
June 25, 1987
Faith No More
Living Room, Providence
June 27, 1987
The Saints
Rash Of Stabbings
Living Room, Providence
July 15, 1987
Todd Rundgren
Living Room, Providence
July 17, 1987
Angry Samoans
New Model Army
Living Room, Providence
July 24, 1987
Yellowman
Living Room, Providence
August 5, 1987
Billy Brag
Living Room, Providence
August 6, 1987
Jon Butcher
Living Room, Providence
August 8, 1987
Mark Farner
Living Room, Providence
August 22, 1987
Del Fuegos
Batalonia
Living Room, Providence
August 27, 1987
Alvin Lee
MX
Living Room, Providence
August 28, 1987
The Ramones
Living Room, Providence
August 29, 1987
Julian Cope
Living Room, Providence
September 2, 1987
King Diamond
Trouble
Living Room, Providence
September 9, 1987
GBH
Living Room, Providence
September 11, 1987
Sonic Youth
Living Room, Providence
September 16, 1987
Dead Milkmen
Living Room, Providence
September 22, 1987
The Fixx
Living Room, Providence
September 24, 1987
Grim Reaper
Armored Saint
Helloween
Living Room, Providence
October 23, 1987
The Pixies
Living Room, Providence
October 26, 1987
Guns N' Roses
Living Room, Providence
October 29, 1987
Wendy O Williams & The Plasmatics
Living Room, Providence
November 6, 1987
Red Hot Chilli Peppers
Living Room, Providence
November 9, 1987
Circle Jerks
Living Room, Providence
November 11, 1987
Husker Du
Living Room, Providence
November 13, 1987
Ron Wood & Bo Diddley
Living Room, Providence
November 19, 1987
The Ramones
Living Room, Providence
November 20, 1987
Blue Öyster Cult
Living Room, Providence
December 5, 1987
The Pixies
Living Room, Providence
December 11, 1987
Molly Hatchet
1988
MAIN BAND
SUPPORT
SUPPORT
AD
TICKET
PICTURES
TAPE
Living Room, Providence
January 21, 1988
Exodus
M.O.D.
Living Room, Providence
January 27, 1988
Exploited
Living Room, Providence
February 12, 1988
The Dead Milkmen
Living Room, Providence
April 1, 1988
Extreme
Living Room, Providence
April 21, 1988
Crumbsuckers
Wargasm
Living Room, Providence
April 27, 1988
The Ramones
BB Buell & The Gargoyles
YES
Living Room, Providence
April 28, 1988
Dirty Looks
Skid Row
YES
Living Room, Providence
May 1, 1988
MX
Rash Of Stabbings
Tyger Tyger
YES
Living Room, Providence
May 4, 1988
Del-Lords
Asa Brebner
YES
Living Room, Providence
May 6, 1988
Iron Butterfly
YES
Living Room, Providence
May 7, 1988
Willie Alexander & The Neighborhoods
Robin Laine & The Chartbusters
YES
Living Room, Providence
May 12, 1988
Wendy O' Williams
YES
Living Room, Providence
May 13, 1988
Robin Trower
YES
Living Room, Providence
May 14, 1988
The Romantics
YES
Living Room, Providence
June 2, 1988
M.D.C.
Living Room, Providence
June 4, 1988
The Dead Milkmen
Living Room, Providence
June 6, 1988
Bad Brains
Living Room, Providence
June 10, 1988
Tower Of Power
Groove Masters
YES
Living Room, Providence
June 11, 1988
Throwing Muses
YES
Living Room, Providence
June 18, 1988
Lena Lovich
YES
Living Room, Providence
June 20, 1988
Circle Jerks
7 Seconds
Living Room, Providence
June 24, 1988
Mighty Lemon Drops
The Wildflowers
YES
Living Room, Providence
June 26, 1988
Soul Asylum
YES
Living Room, Providence
June 29, 1988
John Entwistle
YES
Living Room, Providence
July 1, 1988
Max Creek
YES
Living Room, Providence
July 2, 1988
Max Creek
YES
Living Room, Providence
July 7, 1988
Testament
Vio-lence
Living Room, Providence
July 7, 1988
Meat Puppets
YES
Living Room, Providence
July 14, 1988
Third World
YES
Living Room, Providence
July 17, 1988
Nina Hagen
YES
Living Room, Providence
July 18, 1988
Henry Rollins Band
Mallethead
Living Room, Providence
July 19, 1988
Circle Jerks
YES
Living Room, Providence
July 21, 1988
M.O.D.
Living Room, Providence
July 25, 1988
Overkill
Nuclear Assault
Living Room, Providence
July 27, 1988
Max Creek
YES
Living Room, Providence
August 3, 1988
Max Creek
Living Room, Providence
August 5, 1988
Hot Tuna
David Bromberg
YES
Living Room, Providence
August 10, 1988
Max Creek
Living Room, Providence
August 11, 1988
The Dickies
YES
Living Room, Providence
August 12, 1988
The Raindogs
MX
YES
Living Room, Providence
August 16, 1988
The Smithereens
Stealin Horses
YES
Living Room, Providence
August 17, 1988
Max Creek
Living Room, Providence
August 19, 1988
Max Creek
YES
Living Room, Providence
August 22, 1988
Toots and The Maytals
Massal
YES
Living Room, Providence
August 24, 1988
Max Creek
Living Room, Providence
August 26, 1988
The Neighborhoods
YES
Living Room, Providence
August 31, 1988
Max Creek
Living Room, Providence
September 6, 1988
King Diamond
Flotsam & Jetsam
YES
Living Room, Providence
September 7, 1988
Max Creek