Newport Jazz Festival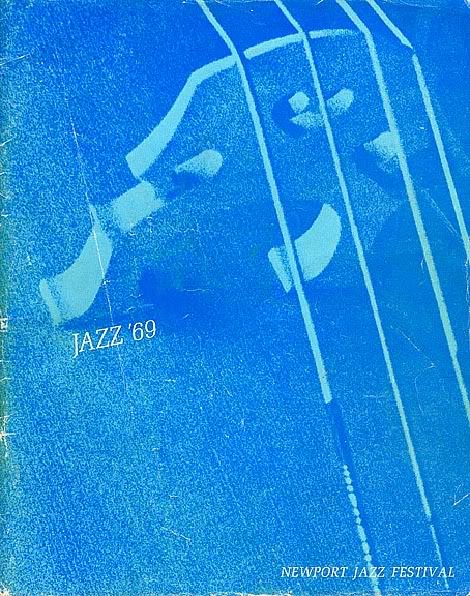 1969
| | | | | | | | | |
| --- | --- | --- | --- | --- | --- | --- | --- | --- |
| | 1969 | MAIN BAND | SUPPORT | SUPPORT | AD | TICKET | PICTURES | TAPE |
| Newport Jazz Festival, Festival Field | July 3, 1969 | Sun Ra and Space Arkestra | Bill Evans/Jeremy Steig | George Benson | | | | |
| Newport Jazz Festival, Festival Field | July 4, 1969 | Jeff Beck Group | Ten Years After | Jethro Tull | | | | Recorded |
| Newport Jazz Festival, Festival Field | July 5, 1969 | Frank Zappa & The Mothers Of Invention | John Mayall | Miles Davis Quintet | | | | Recorded |
| Newport Jazz Festival, Festival Field | July 5, 1969 | Sly & The Family Stone | O.C. Smith | Dave Brubeck | | | | |
| Newport Jazz Festival, Festival Field | July 6, 1969 | James Brown | Nipsey Russell | | | | | |
| Newport Jazz Festival, Festival Field | July 6, 1969 | Led Zeppelin | Johnny Winter | B.B.King | YES | YES | | Set List |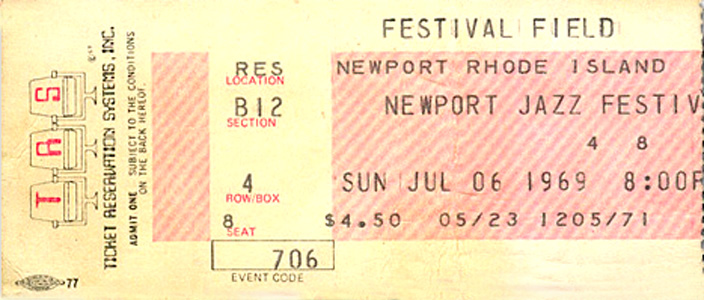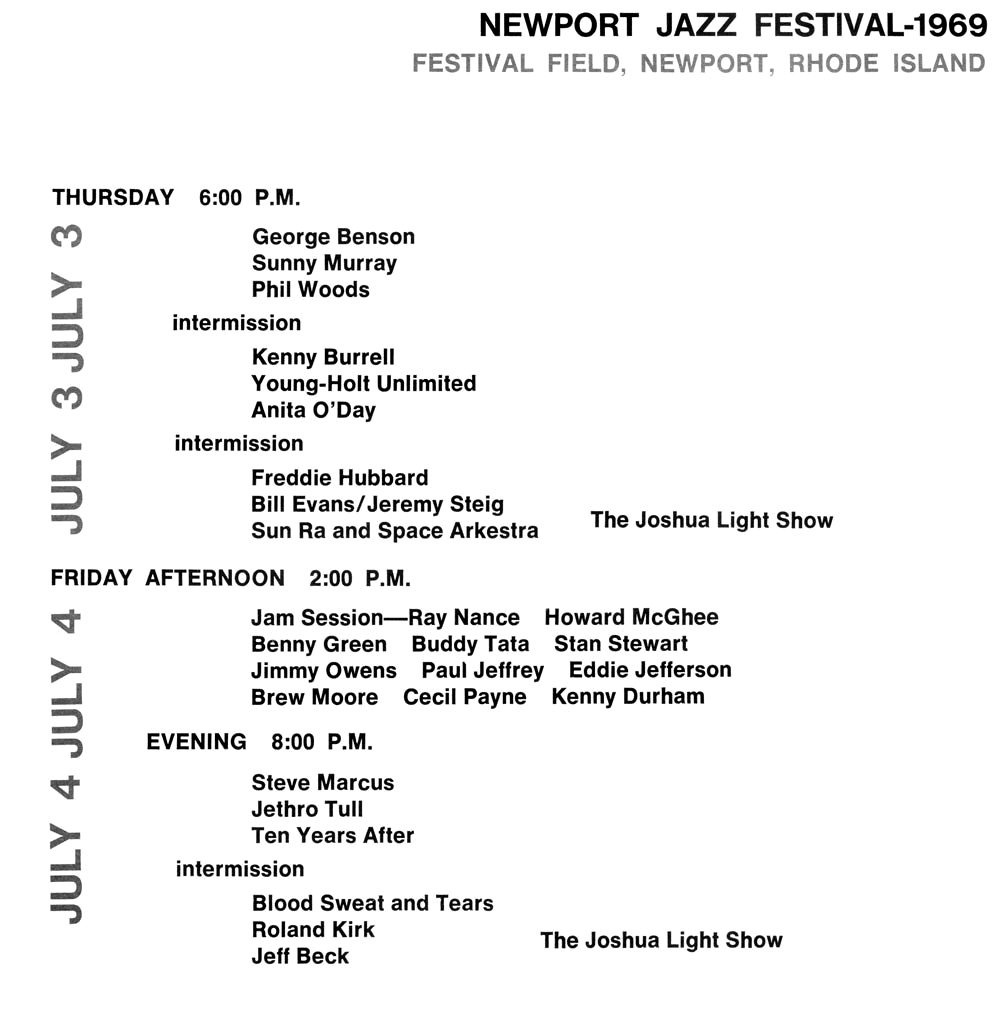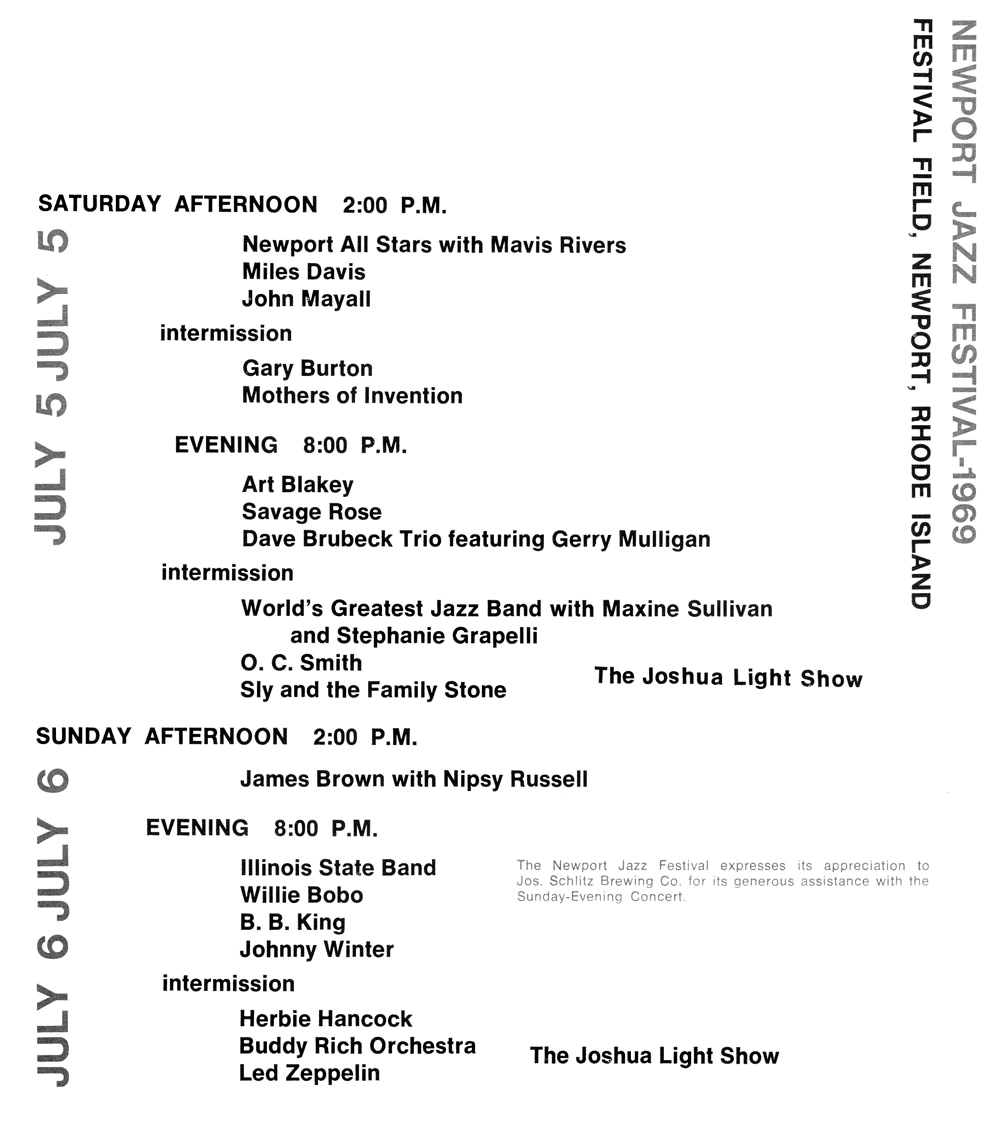 Newport Jazz Lineup 1969


THURSDAY

George Benson

Sunny Murray

Phil Woods

Kenny Burrell

Young-Holt Unlimited

Anita O'Day

Freddie Hubbard

Bill Evans/Jeremy Steig

Sun Ra and Space Arkestra

The Joshua Light Show


FRIDAY

Jam Session - Ray Nance, Howard McGhee, Benny Green, Buddy Tata, Stan Stewart, Jimmy Owens, Paul Jeffrey, Eddie Jefferson, Brew Moore, Cecil Payne, Kenny Durham

Steve Marcus

Jethro Tull

Ten Years After

Blood Sweat and Tears

Roland Kirk

Jeff Beck

The Joshua Light Show


SATURDAY

Newport All Stars with Mavis Rivers

Miles Davis

John Mayall

Gary Burton

Mothers of Invention

Art Blakey

Savage Rose

Dave Brubeck Trio Featuring Gerry Mulligan

World's Greatest Jazz Band with Maxine Sullivan and Stephanie Grapelli

O.C. Smith

Sly and the Family Stone

The Joshua Light Show


SUNDAY

James Brown and Nipsy Russell

Ilinois State Band

Willie Bobo

B.B. King

Johnny Winter

Herbie Hancock

Buddy Rich Orchestra

Led Zeppelin

The Joshua Light Show
Program and festival lineup courtesy of http://newportjazzfest.net/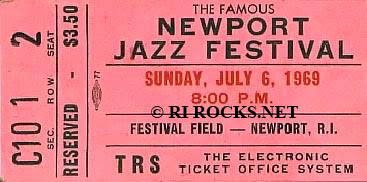 Ticket stub courtesy of Peter Nolan Smith
CONCERT MEMORIES:
*Note: if you were there and would like to share your memories, pictures or tape please send it info@rirocks.net
Posted by Peter Nolan Smith
On July 6, 1969 my older brother and I drove from the South Shore to Newport to see the Sunday show of George Wein's Jazz Festival. It was a sunny day and we arrived around 10. Parking was tough and I stuck our VW Beetle on the edge of a Little League field. Thousands of hippies and young people were thronging to Festival Field. Our tickets cost $3.50.
Dave Brubeck opened the afternoon with his oratorio LIGHT IN THE WILDERNESS.
Around 2pm Nipsy Russell warmed up the crowd for James Brown
Everyone groaned, as the emcee introduced him.
We had only seen him on WHAT'S MY LINE.
No one was prepared for his off-color blue performance.
He told a joke about fucking bald-headed twins.
The pot-smoking audience begged for mercy.
Our ribs were stitched by paroxysms of laughter.
After an hour Nipsy gave up the stage for the Godfather of Soul.
Hippies gave up their arm waving and danced to the black soul of the JBs.
James Brown ended his two-hour performance with PLEASE PLEASE ME.
There was a small intermission and then the evening began the Latin bop of Willie Bobo followed by the Herbie Hancock Quartet. BB King rocked the night with his guitar Lucille and Johnny Winter joined him for a duet of scorching guitars. Buddy Rich's Orchestra warmed up the crowd for the final act.
Led Zeppelin.
They took their time taking the stage.
Jimmy Page was sick.
Rumors crisscrossed through the audience.
The show was to be cancelled.
After an hour the band hit the stage.
Jimmy Page later said, "You donít blow a date like this one. Not after all that. The Newport Jazz Festival was far too important to us to just cancel out and Iím very upset at the whole thing. Wein should never have announced one of us was ill.Ē
They blew us away.
Here's Zeppelin tuning.
https://www.youtube.com/watch?v=Rpq5a1sPAYQ
And what about HOW MANY MORE TIMES
https://www.youtube.com/watch?v=0KQSyc7I02Y
We left during this song.
My brother wanted to beat the traffic.
We heard the bass line miles away.
I hear it now too.
But I still laugh at Nipsy Russell's joke about bald-headed twins.
And I can't remember it at all.